YouTube vs Vimeo – Which One is Better for WordPress Videos?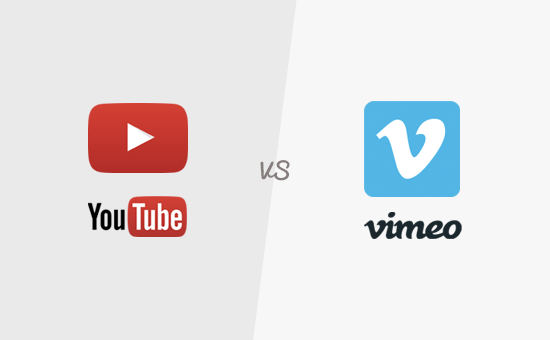 When it comes to uploading videos online, YouTube and Vimeo are the two most popular platforms in the market. That's why we're often asked about YouTube vs Vimeo – which one is better? They are both great platforms with their respective advantages and disadvantages. In this article, we will compare YouTube vs Vimeo and share their pros and cons to help you decide on your video platform.
Why Choose YouTube or Vimeo for WordPress Videos
If you want to start a blog, then WordPress is the most popular blogging platform recommended by experts.
While you can directly upload your videos to WordPress, it is not designed to stream videos.
Videos are large files and most WordPress hosting providers don't offer servers optimized for video streaming. If multiple users access videos on your website at once, then this could crash your server.
On top of that, each user has a different type of internet connection. Your high quality videos will take forever to load on slower internet connections.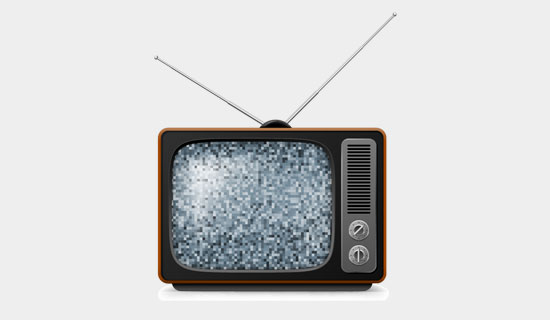 On the other hand, video hosting platforms like YouTube and Vimeo are designed to serve videos. They have server resources and technology to offer a far superior video streaming experience than WordPress.
Most importantly, you can easily embed these videos in WordPress.
For more on this topic, see our guide on why you should never upload videos to WordPress.
That being said, let's take a look at YouTube vs Vimeo, and which one is better for your WordPress videos.
1. Pricing
Both YouTube and Vimeo are for-profit companies. Their pricing options are based on how they make money online.
YouTube:
YouTube is free. Mainly because they make money by showing advertisements. These advertisements are displayed inside the video player, in the sidebar, and inside the YouTube app.
YouTube also offers a paid subscription called YouTube Red for viewers. This service allows viewers to get rid of advertisements as well as access YouTube original shows.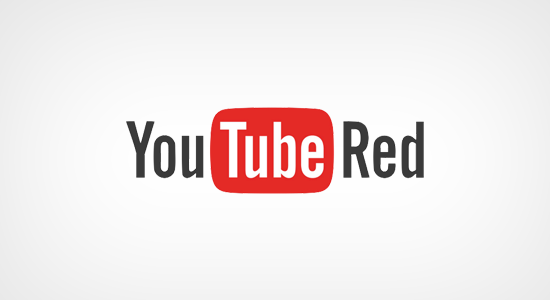 However, as a content creator you'll be able to upload as many videos as you like for free.
Initially, you will not be able to upload videos longer than 15 minutes. However, you can increase this limit by verifying your account.
Vimeo:
Vimeo's business model is quite different than YouTube. They make their money by selling video hosting service, so publishers and businesses can offer their users an ad free viewing experience.
They offer a range of pricing plans starting with the free plan, which is limited to 500 MB of storage per week and 25GB per year.
After that you can join Vimeo Plus, Pro, or Business plans. Each of them offers different upload limits and features.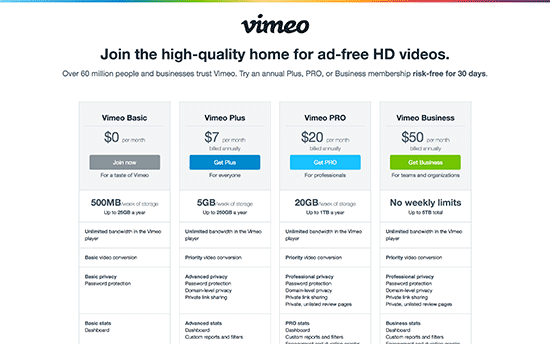 Free plan is quite limited in terms of storage and features. You can start with Vimeo Plus, it costs $7 per month and will give you 5 GB of storage per week.
2. Upload Limits
Both platforms have different policies regarding how much video content you can upload.
YouTube:
By default you can upload unlimited videos, but each video should be under 15 minutes. However, after verifying your account, you can upload videos with up to 12 hours of playback or 128GB file size.
This is very generous and fairly reasonable for all type of content creators.
Vimeo:
Vimeo has different limitations on the upload size for each plan.
Free: 500 MB per week upto 25 GB per year.
Plus: 5 GB per week upto 250 GB per year
Pro: 20 GB per week upto 1 TB per year
Business: No weekly limits and up to 5 TB total storage
See detailed comparison of all Vimeo plans.
3. Audience Size and Reach
Both platforms offer video sharing options, have dedicated communities, and social features baked into their product.
YouTube:
When it comes to audience size and reach, YouTube has the obvious advantage.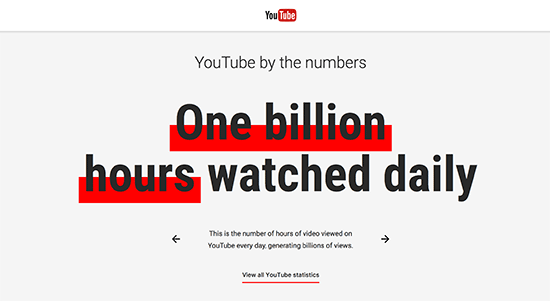 It is owned by Google, so it's noticeably more visible into all their other products. Almost all Android phones in the world come with the YouTube app pre-installed.
YouTube has a community of more than 1 billion users, that's one-third of the internet. It is also the world's second most widely used search engine.
Vimeo:
Vimeo has a much smaller user base than YouTube, but it is stilly fairly huge. Vimeo has over 170 million users, and it is growing at a significant pace. Vimeo is home to some of the most creative content creators in the world.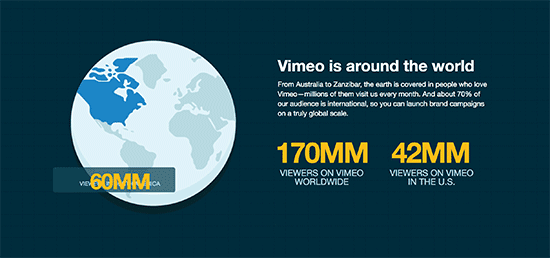 Apart from channels, it also has a Groups feature where users can create and participate in groups. Users can also limit group content visible only to its members.
Vimeo has a pretty decent search feature, which allows users to search for videos, people, channels, and groups. Their content discovery feature shows relevant videos in the sidebar. However, by design they are not as noticeable as they are on YouTube.
4. Privacy Controls
Not all publishers want their content to be seen by everyone. For example, if you are selling online courses or running a membership website, then you want to restrict video access to paying subscribers only.
Let's checkout how both platforms empower publishers to control privacy of their videos.
YouTube: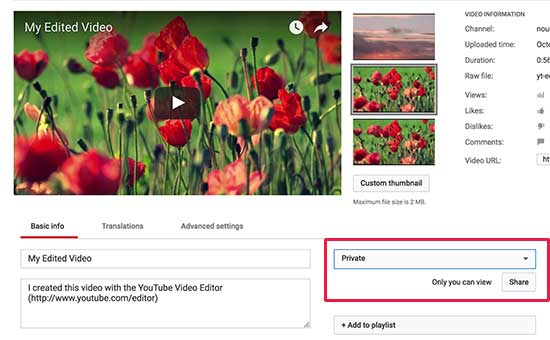 YouTube offers three privacy settings for videos you upload.
Public – These videos are publicly accessible by anyone. They can be searched, listed, and displayed across YouTube platform.
Unlisted – These videos can be accessible by anyone who has the URL. However, they will not appear in YouTube search or related videos
Private – These videos are only visible to you, and specific users you choose.
Apart from these settings, you can also disable comments on your videos. YouTube allows you to disallow embedding of your videos on any websites, but this will also block you from embedding videos on your own WordPress website.
YouTube is not an ideal platform if you want to host private videos.
Vimeo: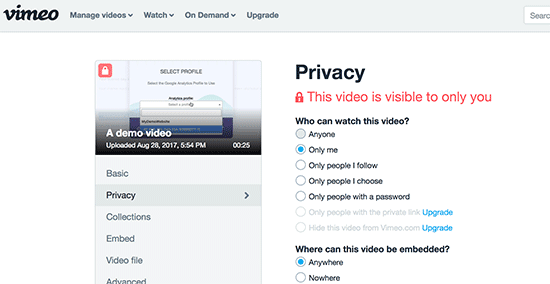 Vimeo offers more privacy options than YouTube. Their privacy settings allow you to make videos public, private, or unlisted. You can also share video only with users you follow.
Paid plan users can also restrict video embeds to their own websites only. They can even disallow their videos to be viewed on Vimeo.com itself.
You can also password protect videos, and users will need to enter that password to view the video. You can then add those videos into password protected posts on your WordPress website.
If you want to have more control on who watches your videos, then Vimeo is a much better platform for you.
5. Video Editing
Both platforms offer great tools to upload, edit, and manage your videos.
YouTube: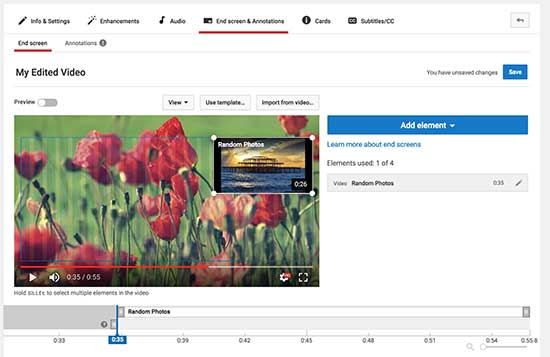 YouTube offers powerful video editing features. They offer a video editor that allows you to create videos from your previously uploaded videos, photos, title, and more.
You can also create videos using your videos and photos in Google Photos. Their web based video editing tools offer a simple and easy video creating process.
YouTube also allows you to add links, annotations, captions, and subtitles to your videos. It also offers live streaming feature where you can live broadcast events, news, or just casual vlogs.
Vimeo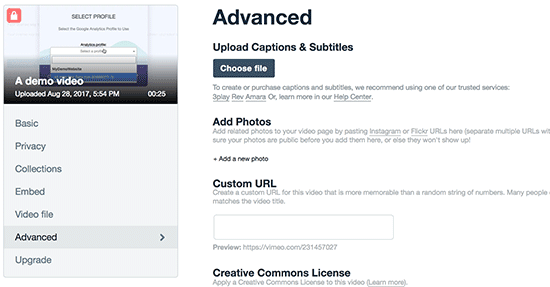 Vimeo does not offer as many video editing features as YouTube. However, it does offer all the basics you'll need.
It allows you to add video title, description, category, tags, license, and audience rating. You can also upload captions and subtitles to your videos. Vimeo does not have annotations features, so you cannot add clickable links into your videos.
The best part about Vimeo though is that you can replace your video with a newer version without having to change the video URL or stats. This is something that you cannot do on YouTube without uploading a new video on a totally new URL.
This specific feature is really handy because if you made a mistake or just need to update screenshots in your tutorials, then you can easily do so while keeping all the view count and the same video URLs across your membership site.
6. Monetization Options
Both platforms allow their users to make money online from their videos.
YouTube: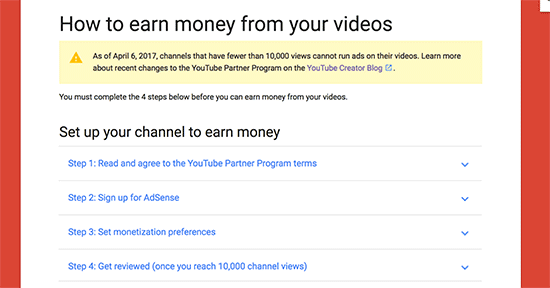 YouTube allow content creators to join the YouTube partner program by signing up for Google Adsense to monetize their videos. Video creators get a cut for the ads displayed on their videos.
However, you'll first need to accumulate at least 10,000 views for your channel before you can join the program.
YouTube also allows content creators to use other monetization options. Publishers can sell products in their videos, add paid reviews, join affiliate programs, get sponsors for their videos, ask for donations, and more.
Many of the YouTube's most popular content creators use platforms like Patreon where viewers can directly support their channel with donations.
Vimeo: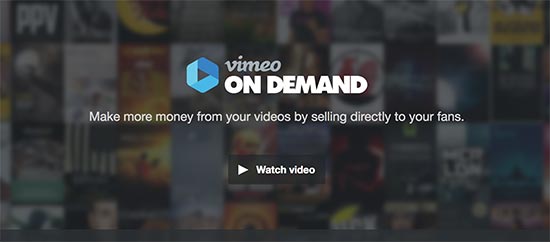 Vimeo prides itself in offering an ad-free video platform. They do not have an advertising program that you can join.
However, they do offer "Vimeo on Demand". A platform where you can sell videos directly to viewers. You'll need at least a Vimeo Pro account to join the program. Think of this as your own version of Netflix.
Vimeo also allows you to mention sponsors in your videos, add links in video description, and ask users to support your channel on platforms like Patreon.
Conclusion
YouTube and Vimeo are both excellent platforms for your WordPress videos. Depending on what you are trying to do with your videos, one platform could be better for you than the other.
If you are a blogger or small business who want to use videos to build a subscriber base and reach a much larger audience, then YouTube will be better for your goals.
If you are making a website with membership options or selling courses, then you need more privacy and a top-notch viewing experience. That's when Vimeo is a better choice.