Wordfence vs Sucuri – Which One is Better? (Compared)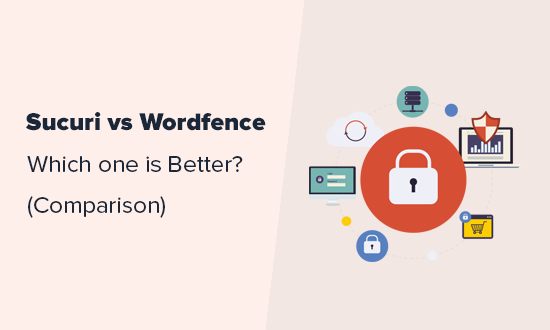 Wordfence and Sucuri are two of the best and most popular WordPress security plugins on the market.
They are both highly recommended and incredibly helpful in keeping your WordPress site secure. This makes it hard for beginners to choose which one is right for them.
While Sucuri and Wordfence have a lot of similar features, each has its own pros and cons.
In this article, we will compare Wordfence vs Sucuri to share which one is better for overall WordPress security in our expert opinion.
Comparing Wordfence vs Sucuri – What to Look For?
Wordfence and Sucuri are the two top WordPress security plugins. They both offer comprehensive protection against brute force attacks, malware infection, and data theft.
As a website owner, you need to choose a security plugin that not only protects your website but does it efficiently. You would also want something that requires little maintenance, so you can focus on growing your business.
Lastly, you need to pick a security plugin that is easy to use and does not require technical skills to setup / maintain.
For this guide, we will be comparing Sucuri vs Wordfence side by side. Our comparison is divided into the following categories:
Ease of use
Website Application Firewall (WAF)
Security Monitoring and notifications
Malware scanner
Hacked website clean up
That being said, let's take a look at how Wordfence vs Sucuri stack up and which one comes out as the best overall WordPress security plugin.
Ease of Use
Website security is a highly complex and technical field. That's why our first comparison category is ease of use.
Let's see how easy it is to use Wordfence vs Sucuri to protect your website.
Wordfence – Ease of Use
Setting up Wordfence is quite easy. Immediately after installing the plugin, it will ask you to provide an email address where you would like to receive security notifications. You would also need to agree with their Terms of service.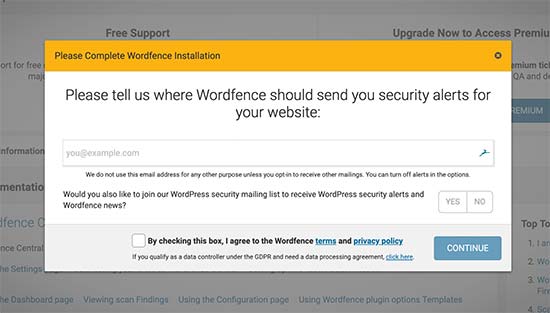 After that, you will see an onboarding wizard that will help you become familiar with the Wordfence dashboard. It points out where you'll see security notifications and scans.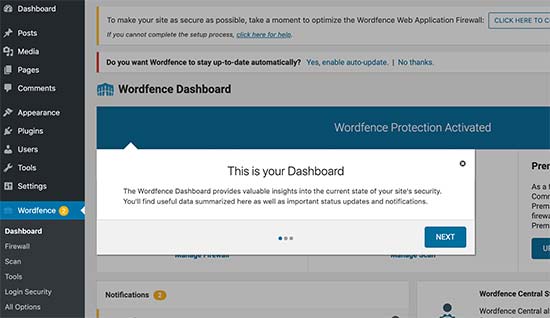 The plugin will turn on the website application firewall in the learning mode and run an automatic scan in the background. Depending on the size of your website, you will see notifications when the scan is finished.
Clicking on a notification will show its details with recommended action that you need to take. For example, here it showed us that our WordPress theme has a newer version available.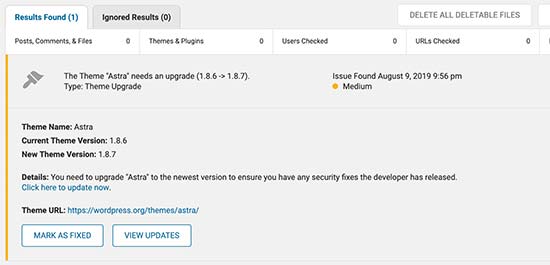 The firewall by default runs as a WordPress plugin which is not very effective. Wordfence does allow you to run it in the extended mode for better protection, but you'll have to set it up manually (more on this later).
The basic Wordfence plugin setup is quite simple and does not require too much user input. The user interface is a bit cluttered which may make it difficult for beginners to find certain settings / option.
Sucuri – Ease of Use
Sucuri offers a cleaner user interface with no unnecessary prompts popping up on the screen. It also runs a quick scan upon activation, and you will see notifications on the plugin's dashboard.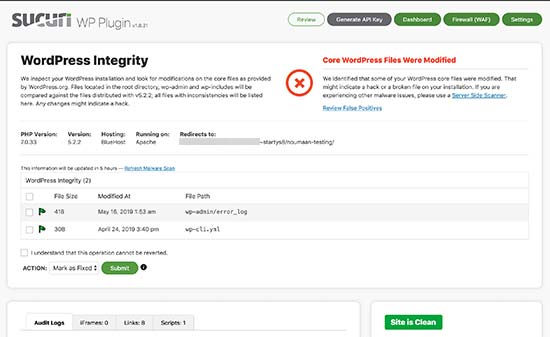 Sucuri's website application firewall (WAF) is a cloud-based firewall which means it does not run on your server. In other words, no technical maintenance required on your end.
You will need to add your API key and configure DNS settings for your domain name. This will allow the firewall to catch malicious traffic before it even reaches your WordPress hosting server.
Once setup, you will not need to worry about updating or maintaining it in the future.
Sucuri also makes it easy to perform recommended security hardening settings on your website. All you need to do is click to apply various security hardening setting.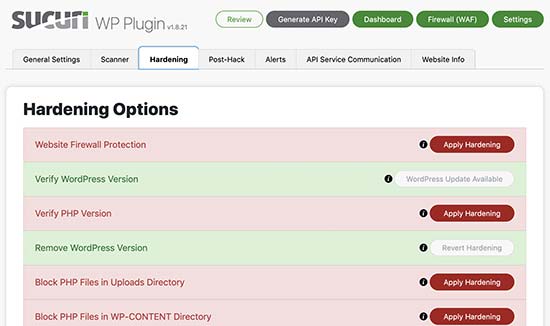 The overall user interface is nice. However, users will still need to dig deeper to find options that they are looking for.
Updating nameservers on domain registrar is an additional step that's required to setup Sucuri's firewall, and it can be a bit difficult for some non-techy users. The good thing is that most popular domain registrars like Domain.com, GoDaddy, etc will be able to help you set it up.
Winner: Sucuri
Website Application Firewall (WAF)
A web application firewall monitors your website traffic and blocks common security threats. There are different ways to implement a firewall (application based vs cloud based).
We believe cloud based firewalls are more efficient and reliable in the long run.
Both Sucuri and Wordfence offer website application firewall, let's see how they differ.
Wordfence Website Application Firewall
Wordfence offers a website application firewall that monitors and blocks malicious website traffic.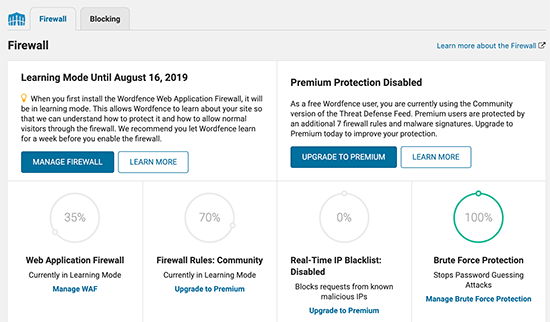 This is an application-level firewall, which means that it runs on your server and is less efficient than a cloud-based firewall.
By default, Wordfence turns it on with the basic mode. This means the firewall runs as a WordPress plugin, so before an attack can be blocked, WordPress has to load. This can take up a lot of server resources, and it's not efficient.
To change that, you will need to manually setup Wordfence firewall in the extended mode. This will allow Wordfence firewall to monitor traffic before it reaches your WordPress installation.
Since it's an endpoint firewall, Wordfence can only block traffic once it has already reached your hosting server. In case of a DDOS attack or brute force attempt, your server resources will still be affected and your website performance will be down. It may even crash.
When you first activate Wordfence, their firewall is in learning mode. It learns how you and other users access your WordPress website. During this time several firewall rules are not applied to make sure that legitimate website users are not accidentally blocked.
Sucuri Website Application Firewall
Sucuri offers a cloud-based website application firewall, which means that it blocks suspicious traffic even before it reaches your hosting server.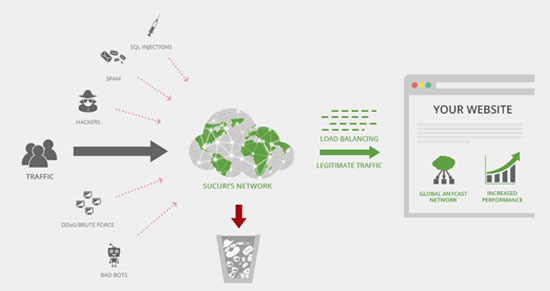 This saves you a lot of server resources and instantly improves your website speed. Sucuri's CDN servers are located in different regions which is another added bonus for website speed.
To use the firewall, you will need to change your domain name's DNS settings. This change would allow all your website traffic to go through Sucuri's servers.
There is no basic or extended mode. Once setup is complete, Sucuri's WAF would start protecting your website from malicious requests, DDOS attacks, and password guessing attempts.
They have a robust machine learning algorithm that is sophisticated enough to prevent false positives.
Sucuri does let you go from High Security mode to Paranoid mode when you experience DDoS. This makes sure that your website server doesn't crash.
Winner: Sucuri
Security Monitoring and Notifications
As a website owner, you need to know if something is wrong on your website as soon as possible. A security issue can cost you customers and money.
To receive these notifications, you need to make sure that your WordPress site can send emails. The best way to ensure that is by using an SMTP service to send WordPress emails.
Let's see how Wordfence and Sucuri handle website monitoring and alerts.
Wordfence Monitoring and Alerts
Wordfence has an excellent notification and alerts system. First, notifications will be highlighted next to the Wordfence menu in the WordPress admin sidebar and dashboard.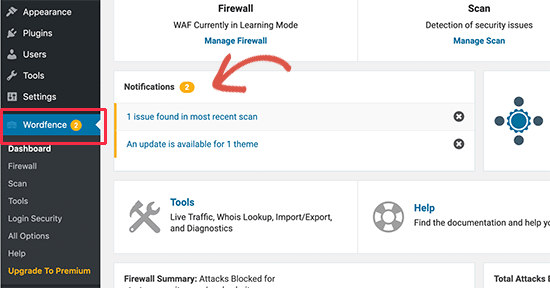 They are highlighted according to their severity. You can click on a notification to learn more about it, and how to fix it.
However, you would see this only when you login to the WordPress dashboard.
Wordfence also comes with instant notifications via email. To configure email alerts, go to Wordfence » All Options page and scroll down to the 'Email Alert Preferences' section.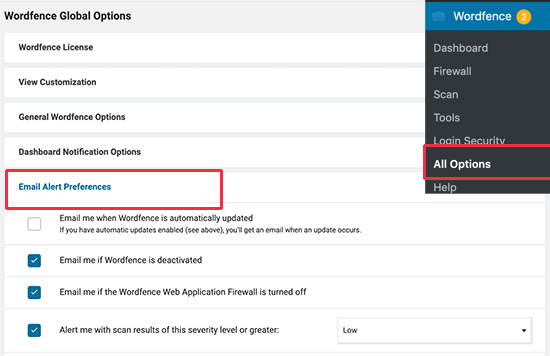 From here you can turn email alerts on/off. You can also choose the severity level to send an email alert.
Sucuri Monitoring and Alerts
Sucuri also displays critical notifications on your dashboard. The top right corner of the screen is dedicated to display the status of core WordPress files.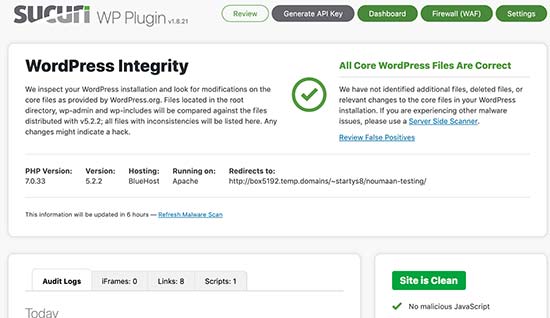 Below that, you'll see the audit logs and site health status.
Sucuri comes with a complete alert management system. Simply visit the Sucuri Security » Settings page and switch to the Alerts tab.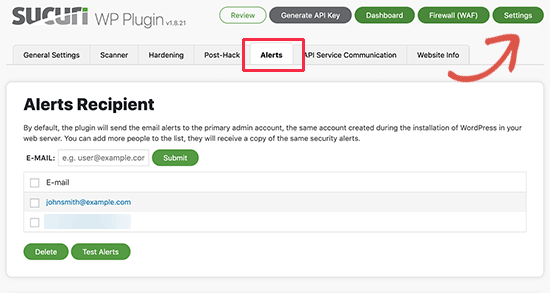 You can add email addresses that you want to be notified. After that, you can further customize email alerts.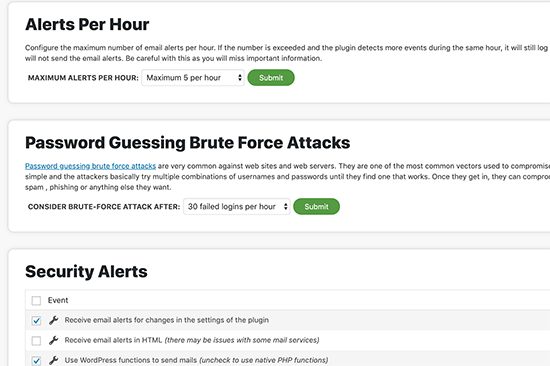 You can choose events you want to be notified about, number of alerts per hour, and customize settings for brute force attacks, post types, and alert email subjects.
Their website application firewall will also send automated high level alerts to your email.
Winner: Tie
Malware Scanner
Both plugins come with built-in security scannerss to check your WordPress site for malware, changed files, and malicious code.
Let's see how Wordfence and Sucuri scan for malware and other issues.
Wordfence Malware Scanner
Wordfence comes with a powerful scanner which is highly customizable to meet your hosting environment and security concerns.
By default, the scan is enabled with limited scan settings (to save server resources on shared hosting plans).
For free version, Wordfence automatically decides a scan schedule for your site. Premium version users can choose their own scan schedule.
You can set up the scanner to run in different modes. Some scan options are only available with the premium version.
Wordfence scanner can also check your plugin and themes to match the repository version.
Sucuri Malware Scanner
Sucuri Malware scanner uses Sucuri's Sitecheck API. This API automatically checks your site against multiple safe-browsing APIs to ensure that your website is not blacklisted.
It automatically checks the integrity of your core WordPress files to make sure that they are not modified.
You can customize the scan settings from Sucuri Security » Settings page and clicking on the scanner tab.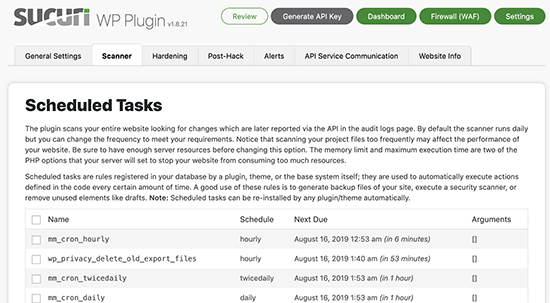 Sucuri's free scanner runs on the publicly available files on your website. It is not a WordPress specific scanner, so it is incredibly good at detecting any type of malware and malicious code.
It is also less intrusive on your server resources which is an added bonus.
Winner: Sucuri
Hacked Website Clean up
Cleaning up a hacked WordPress site is not easy. Malware can affect several files, inject links in your content, or block you out of your own website.
Manually cleaning everything by yourself is not possible for most beginners.
Luckily, both Wordfence and Sucuri offer site clean up and malware removal service. Let's take a look at which one does it better.
Wordfence Site Clean Up
Wordfence site cleanup service is not included in their free or premium plans. It is sold separately as an add-on service.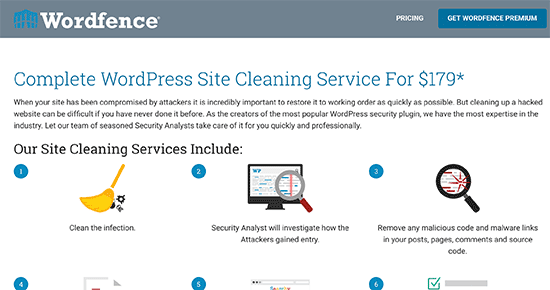 Site clean up will also give you a premium Wordfence license for one website.
The malware clean up process is pretty straight forward. They will scan your site for malware / infections, and then clean up all affected files.
Their team will also investigate how hackers got access to your site. They will prepare a detailed report of the entire clean up process with suggestions for future prevention.
Sucuri Site Clean up
All paid Sucuri plans include website clean up service. This comes with site clean up, blacklist removal, SEO spam repair, and WAF protection for future prevention.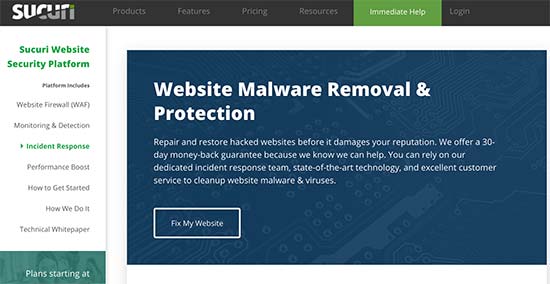 They are really good at cleaning up malware, injected spam code, and backdoor access files.
The process is quite straight forward. You open a support ticket and their team will start working on the cleanup process.
They will use your login credentials for FTP/SSH access or cPanel. During the process, they keep a log of every file they touch and automatically backup everything.
Winnner: Tie
Conclusion
Both Wordfence and Sucuri are excellent WordPress security plugins. However, we believe that Sucuri is the best WordPress security plugin overall.
It offers a cloud-based WAF which improves your website's performance and speed while blocking malicious traffic and brute force attacks.
Wordfence is a good free option if you don't mind using a server-side firewall and scanner.
If you are looking for a free cloud-based website firewall, then you can use Cloudflare as a free alternative, but it doesn't offer comprehensive protection. See our comparison of Sucuri vs Cloudflare.
Editor's note: We use Sucuri on WHOOPS.ONLINE website to boost our security. See our detailed Sucuri review.