How to Disable Trackbacks and Pings on Existing WordPress Posts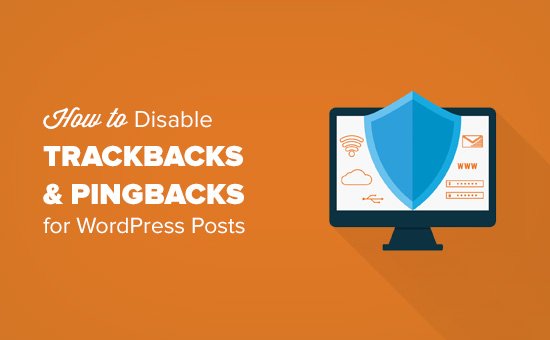 Do you want to disable trackbacks and pings on your old WordPress posts? Trackbacks and pingbacks allow blogs to notify each other that they have linked to a post. However, today it is mainly used by spammers to send trackbacks from spam websites. In this article, we will show you how to disable trackbacks and pings on existing WordPress posts.
Why Disable Trackbacks and Pings in WordPress?
In the early days of blogging, trackbacks and pingbacks were introduced as a way for blogs to notify each other about links.
Let's suppose you write an article and add a link to a post on your friend's blog. Your blog will then automatically send a ping to their blog.
This pingback will then appear in their blog's comment moderation queue with a link to your website.
However, today this feature is mostly used by spammers to send thousands of fake trackbacks and pings. Even if you are using Akismet, some of these trackbacks may still get into your moderation queue.
WordPress allows you to turn off this feature. You can do that by going to Settings » Discussion page and then uncheck the box next to 'Allow link notifications from other blogs (pingbacks and trackbacks) on new articles' option.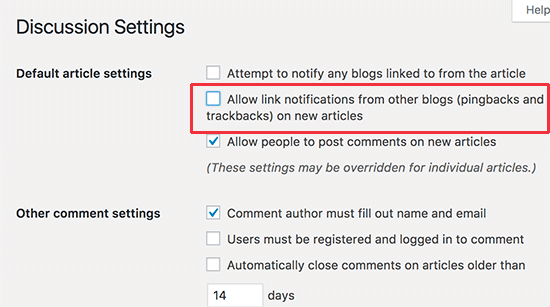 However, it only turns them off on any new articles that you publish. All your old posts will still have trackbacks and pingbacks enabled. WordPress will even add trackbacks to those posts whenever you link them on your own blog. See our guide on how to disable self pingbacks in WordPress.
Let's take a look at how to easily disable trackbacks and pings on existing WordPress posts.
Disable Trackbacks and Pings for WordPress Posts
First you need to visit Posts » All Posts page and then click on the Screen Options button at the top right corner of the screen.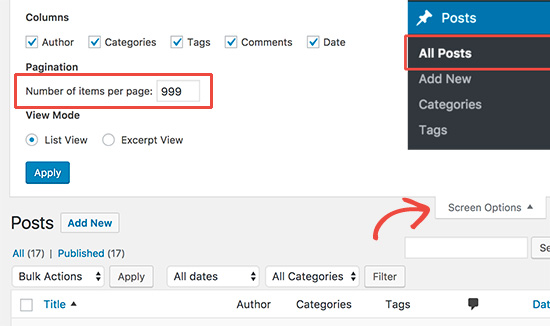 Now enter 999 next to 'Number of items per page' option and then click on apply button.
This will reload the post's list, and it will now show upto 999 posts on the same page.
Next, you need to select all posts by checking the box next to title label.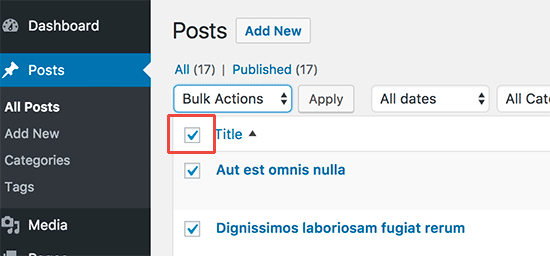 After that you need to select 'Edit' from Bulk Actions drop down and click on the 'Apply' button.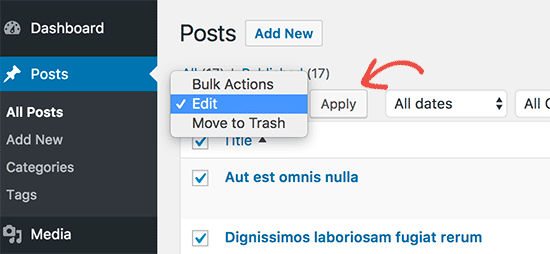 WordPress will now show you a bulk edit box with all posts on the page selected.
In the bulk edit box, you need to look for the pings option and then change it to 'Do not allow'.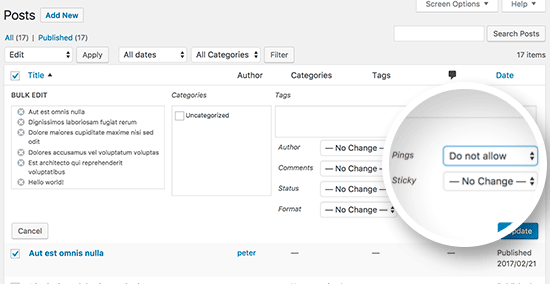 Next, you just need to click on the update button to save your changes.
WordPress will now update and turn off pings on all selected posts.
If you have more than 999 posts on your WordPress site, then you need to go to the next page and repeat the process.