How to Check Domain Name Availability (Easy Domain Search Tools)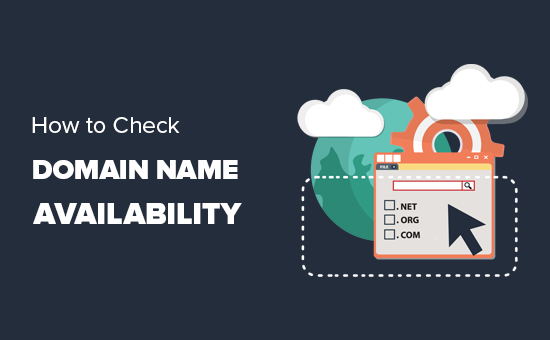 Choosing a domain name can be overwhelming because first you need to come up with an idea, and then you have to check domain name availability.
Since a lot of good domains are already taken, often beginners feel stuck.
Wouldn't it be nice if you can check domain name availability faster and even find new ideas while you do it?
In this article, we'll show you how to check for domain name availability with some of the easiest domain search tools.
1. Domain.com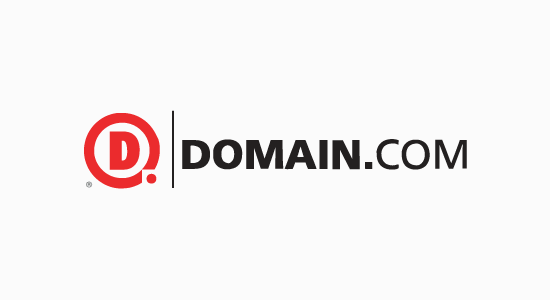 Domain.com is one of the best domain registrars on the market. They offer a wide range of domain extensions at discounted rates, and have the best domain management tools for beginners.
Most importantly, they have a powerful domain search tool that let's quickly check domain name availability. Simply go to their website and enter your desired keywords or phrase.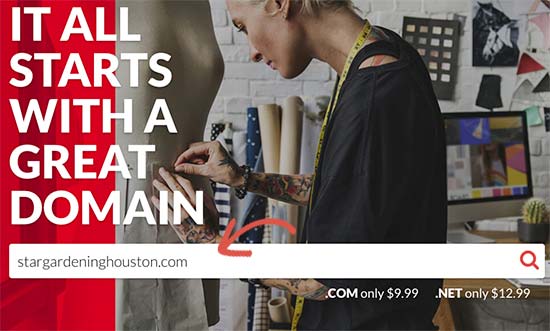 Domain.com will show if the domain is available for registration. If it is, then congratulations you can go ahead and get it registered right away. Bonus: use our Domain.com coupon code to get an additional discount.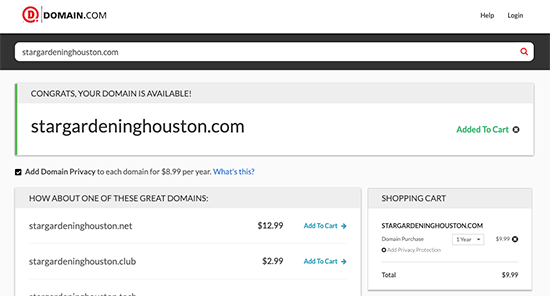 If the domain you are looking for is not available, then it will show you different combinations to help you brainstorm and come up with a unique idea.
Once you have found a domain name, you can simply add it to cart and click on the 'Continue' button to register it.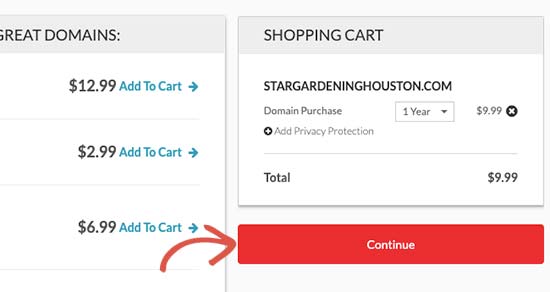 On the next screen, enter your billing and payment information to complete the purchase.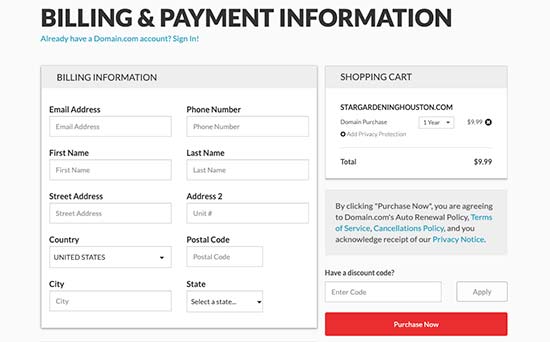 2. Nameboy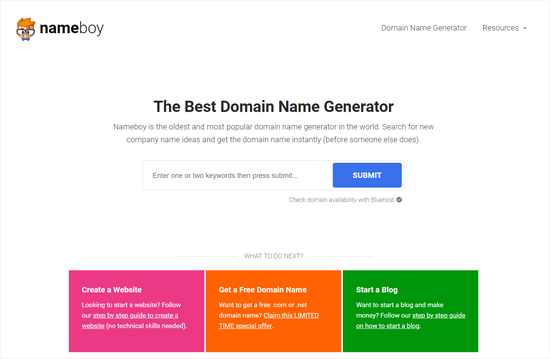 Nameboy is one of the oldest and the most reliable domain name generator tool on the market.
If you want to quickly generate dozens of domain name ideas, then you can use this tool. Simply enter your desired keyword or phrase and it generates a list of domain names to choose from.
You can click on any domain name to view details and register the domain name. The downside is that it does not show you the availability of domain names right away.
3. IsItWP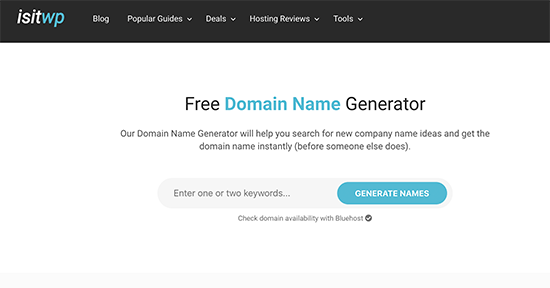 IsItWP offers a bunch of useful tools like a WordPress security scanner, website uptime checker, password generator, and a powerful domain generator.
The domain generator allows you to look up for a domain name by simply entering keywords or phrases. It then creates a number of different domain names.
This gives you a ton of possible choices to go through. However, you will need to click on the view details button to actually register or check the availability of the domain name.
4. Blog Tyrant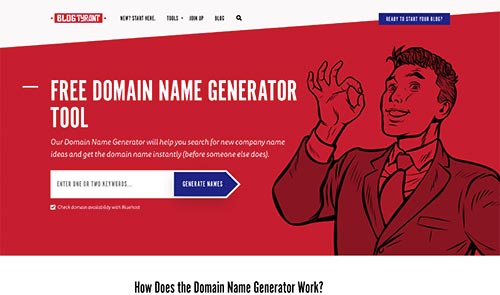 Blog Tyrant is a popular blogging resource site with several free tools including a domain name generator.
It helps you look up for domain ideas for your selected keyword or phrase. You can click on a domain name to see more details or try a different keyword combination to get even more domain name suggestions.
5. Bluehost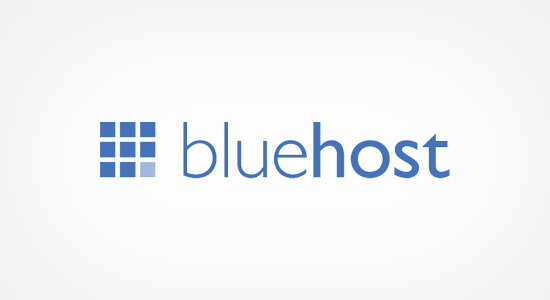 Bluehost is one of the biggest web hosting companies in the world. If you want to make a website right away, then their domain availability checker will be a good option for you.
They are offering WHOOPS.ONLINE users a free domain name and a generous discount on WordPress hosting. Basically, you'll be able to start a blog or website for $2.75 per month.
→ Click Here to Claim This Exclusive Bluehost Offer ←
You can simply visit their website and click on the get started button. After that, you will be asked to choose a plan.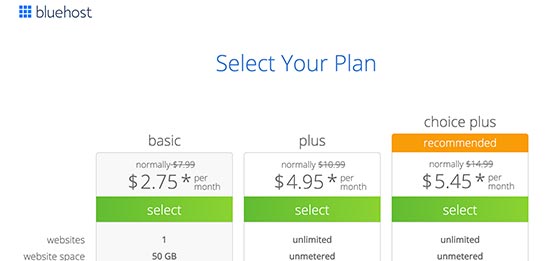 On the next screen, you will be asked to choose a domain name. Enter your desired domain name or keywords to check availability.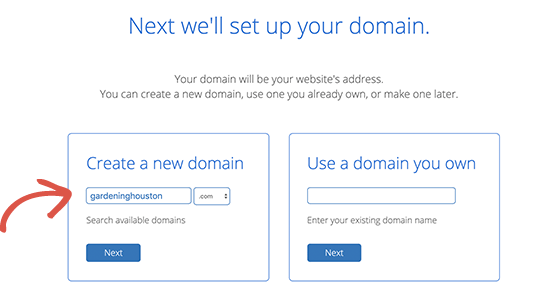 If your preferred domain name is not available, then it will show you several suggestions to choose from or search for another domain name.
Once you have found the domain name you like, then you can simply go ahead and complete the purchase.
6. GoDaddy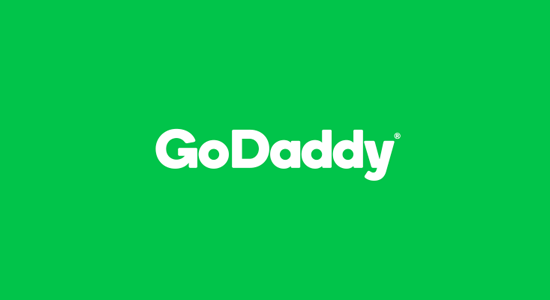 GoDaddy is one of the biggest domain name companies on the market. You can use their website to look for domain name availability as well.
However, their suggestions usually include hyphens, lesser-known and uncommon domain extensions, or premium domain names which are available for a higher price.
There are many excellent GoDaddy alternatives that are cheaper and more reliable.
How to Choose The Perfect Domain Name?
Many beginners find it difficult to find the perfect domain name. More than 350 million domain names are already registered, and it feels like that all the good ones are already taken.
If the domain name you want is not available, then you'll need to get creative. Here are a few quick tips that will help you find the perfect domain name for your website.
Stick with .com domain names and don't choose a new domain extension
Use keywords associated with your business. See our guide on how to do keyword research to learn more.
Avoid hyphens and numbers in domain name. They would make it harder to spell and pronounce.
Choose a domain name that is easily memorable, doesn't require you to spell it, and represents your brand
For more in-depth tips, see our complete guide on how to choose the best domain name.
I've Found a Domain Name, Now What?
You need to act fast and register that domain name.
Thousands of new domain names are registered every day. Domain names are a lucrative business and people are always looking for good domain names to register and then resell for a better offer.
If your domain name idea is good, then there is a great chance that it will not be available for long. You need to just go ahead and register your domain name.
Do I Need a Website to Get a Domain Name?
No, you don't.
You can register a domain name without creating a website. To understand how these two things are related, see our guide on the difference between domain name and web hosting.
To make a website you'll need to sign up with a hosting company. This is where you will store your website's files.
Domain names are sold by domain name registrars. These are the companies licensed by ICANN (an international body that manages domain names worldwide) to register domain names.
To make a website, you need both domain name and web hosting. However, if you are not yet ready to make a website, then you can simply register a domain name.
This will give you the ownership of that domain name for the licensed period. You can make a website or start an online store later when you're ready.
Which is The Best Tool to Check for Domain Name Availability?
We recommend using Domain.com as the best tool to check for domain name availability.
It allows you to quickly do your domain name research. You can instantly register the domain name without visiting a third-party website. They also offer the easiest domain tools and a simple domain management area.
If you just want to explore different domain name ideas, then Nameboy helps you instantly generate dozens of domain names using your keywords or business name.