Connect WordPress ~ Out of the Box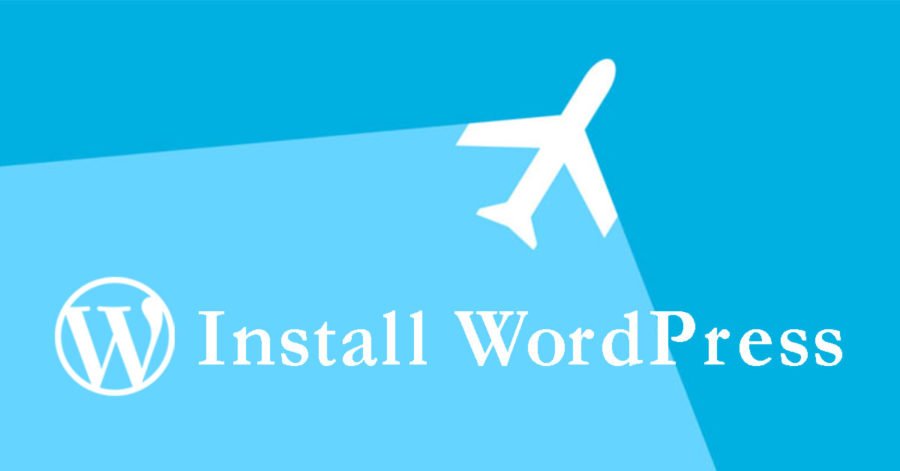 If you want to launch your website or blog immediately we can recommend only one thing – Use WordPress!
WordPress is an intuitive CMS based website content manager. It is supported by a large community of WordPress developers and enthusiasts. It comes with tons of free themes and available add-ons to increase its functionality. WordPress is currently used by the highest number of web businesses publishing companies and blogging individuals.
I assume that everyone who has ever thought of running a website must have heard of a WordPress Content Management System at some point. And also, that everyone who has ever thought of using the WordPress to run their website was later on very happy with their choice.
WordPress is a fully scalable CMS that supports all kind of online businesses – from simple, micro-blogging platforms, to highly successful websites, news magazines, online portfolios and e-commerce applications. Would you require anything more? Read ahead if you need your WordPress website immediately.
3 simple steps to start your WordPress website
We are offering a simple way to get your WordPress website up and running. With this set of simple instructions all is done in 25 – 45 minutes. No special experience is needed. Keep it simple to the point.
STEP #1: Register your domain name and hosting (10 min)
First register your domain name and hosting plan. Very simple. If you know how to do it visit Connect 2u2 Web Hosting or follow the rules below.
For beginners we recommend a Starter Hosting Plan (Cockatoo – only A$ 5.99/month). With Cockatoo hosting plan you will receive an unlimited hosting space for 1 WordPress Website, 3 additional email accounts and a place to park 3 extra domains. Start immediately > Start Here
If you would need more resources then we recommend starting with any of the following hosting plans: Individual (Lorikeet) or Business (Hummingbird). Cost for both is the same (only A$ 12.99 / month). Lorikeet comes with unlimited hosting space and bandwidth, the Hummingbird comes with higher resource allocation and speed benefits.
If you wish to get an overview on all hosting plans, please go to Start Your Online Business or visit Connect 2u2 Hosting directly.
Once your hosting plan is ready, you will receive an email invitation to login to your new account. Once logged in you will be able to access your Control Panel.
STEP #2: Access your hosting dashboard and add an email account (10min)
Once logged into your Hosting Management Account you'll be able to access your Control Panel from where you'll be able to add a new email account and later install WordPress. Just follow the rules below.
Once logged-into your Connect Hosting Account, click on Services. (see picture above). Click into your Active Service and then under Actions (in the left column) click Login to cPanel.
A new window will open and you will be logged into your Control Panel.
Create your email account:
Once in Control Panel, first setup your email account.
Scroll down to Email section of Control Panel and choose Email Accounts. Once in Email Accounts, adding a new email is self-explanatory. Add a new email and return to your Dashboard by clicking on the icon in the upper left corner.
HINT: Choose a strong password when adding your email account. We recommend using Email Account's provided password generator. Security is a high-priority here.
STEP #3: Install WordPress, Out-Of-The-Box (5min)
Once you're back on the Control Panel's Dashboard, scroll down to find Softaculous Apps Installer. It's usually located towards the bottom of the Dashboard.
HINT: Softaculous App Installer comes in 2 forms, either as an Icon or as a row with icons of installable applications. That depends on the hosting plan you're choosing. Dashboard is very intuitive and you'll quickly find the right spot.
In Softaculous Apps Installer you'll see many applications and their respective icons. Choose WordPress.
A new Softaculous screen will open. If WordPress hasn't been selected, click on it and it will give you the Install Now option. (picture below)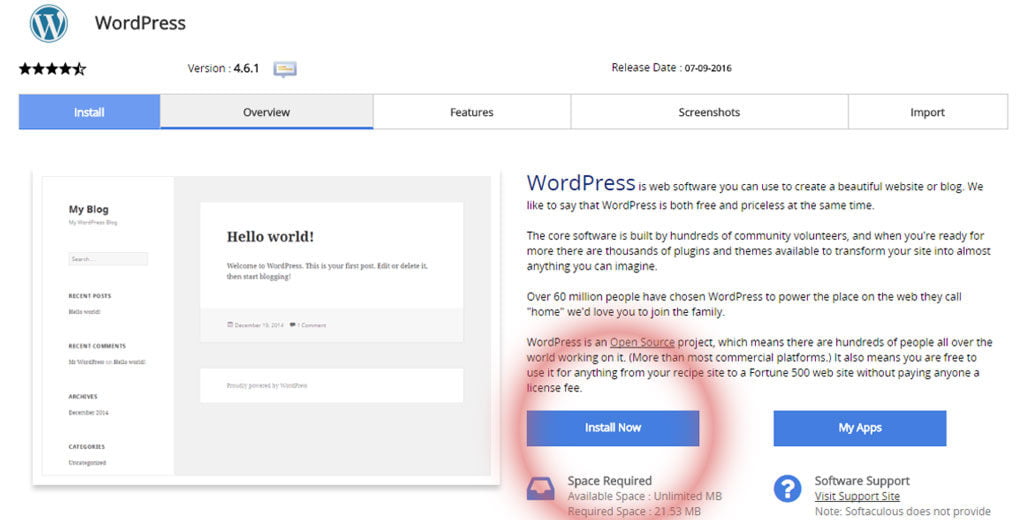 In Install screen you will be presented with some basic settings:
Protocol: http:// or https:// (default is http://)
Domain name: (your domain name)
Directory: (Leave empty if you do not wish to install in a sub-directory)
Site Name: Write a name for your site
Site Description: Write a short description of your website name.
Enable Multisite: (for advanced users, leave unchecked)
Username: (choose your unique username, other than default 'admin')
Password: Use secure password – click on the Key icon to generate one for you (make sure you keep a copy of it)
Admin Email: Use the email account you created earlier.
Language: (use preferred)
Limit Login Attempts: For better security tick that option.
Advanced options: (You don't need to use those, but if you want to they are self-explanatory)
Select Theme: This is the fun part. Choose any of the available themes in Installer and it will install the theme with your WordPress. If you don't choose any extra theme, your WordPress will come pre-installed with default TwentySixteen, -Fifteen, -Fourteen themes ..
Once done, click the Install button and wait for a few seconds to receive a Login invitation.
When installation is complete a Login Invitation will notify you with a Website and Login link that your new WordPress website is active and running.
Click on provided Login link to start using your new WordPress site. HINT: Login using the Username and Password combination.
That's All! You did it!
Now enjoy your new website and squeeze every drop of website publishing potential out of your WordPress! I know you will love it as we do! – in it's full extend.
Additional suggestions
With it's ease of use on one side WordPress can also be demanding. It can be used for professional and e-commerce business hosting as well. For that we offer additional services and monthly support plans.
In addition to regular domain and hosting services we offer professional WordPress Maintenance, Services and Support. These include: Web development, Add-on modules, Commercial themes and plugins, E-commerce and Online store, Learning Management System, SEO and Advertising packages. Not to mention a professional hosting and security services, CodeGuard Backups, Anti-virus, SSL Certificates, Mod Security, Spam Assassin and SiteLock Anti-Malware Security.
Contact us for additional services or order any of the available Monthly Support plans as an add-on to your WordPress Hosting service.